The Riding Centre is currently closed and we are not taking lessons, trail rides, Pony Club and our other activities.
Thank you for your interest in Croxteth Park Riding Centre. We've used this page to explain how our lessons will be taking place during the CoVid-19 pandemic. We've put together plans based on keeping you and our staff safe during this difficult time.
Horse-riding is an outdoor sport, regarded as a low risk, with the natural distance between riders ensuring social distancing. Covid-19 is a human viral infection, with no evidence of it being carried or transmitted by horses.
Registration Procedure
Read through the information below
If you haven't already done so, complete our new Client Registration Form at the bottom of this page (this will open in a new window) and fill in all the sections. You only need to complete the online form once, unless your details change (eg phone number).
Booking lessons is still by telephone ,

give us a call and we'll help sort out where we can fit you in and answer your questions. The number of classes and times of lessons will still be limited, to ensure that we comply with CoVid-19 restrictions and safety precautions.
Before your lesson
Anyone that is showing symptoms of CoVid-19 should not come for lessons, or if anyone in their household is showing symptoms, or is self isolating or quarantining.
All our lessons will be taught, as best as possible, while maintaining 'social distance' and minimising the opportunity for transmission through surface contact.
What to Wear - please see our 'What to Wear' page, with up-to-date guidance for Covid security. We have some equipment available for loan.


When arriving at Croxteth Hall and Country Park for your lesson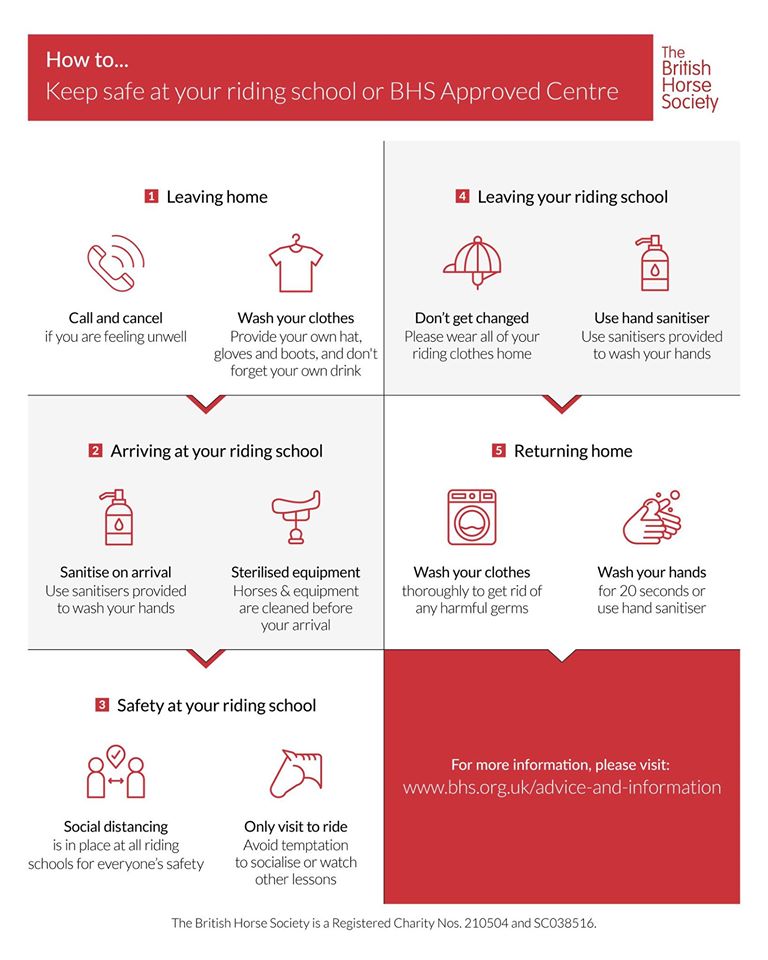 The Riding Centre outer gate should be closed - please open and close it again after entry.

We'll be looking out for you so please stay behind the gate at the yard - we'll come to collect you. Please be ready to ride, wearing clean gloves, suitable boots, your own hat, correctly fitted and fastened and with your own whip if needed. We have some equipment available for loan, details on our What to Wear page.
Please comply with any direction signs (eg one way system, etc) at the centre.
Everyone should keep a suitable social distance from each other at the centre at all times. 2 metres distance, briefly '1 metre plus' when mounting up, etc.

Sorry, there will be no access into any of the stables, or other buildings, except a toilet (with sink for handwashing, etc) for Clients.

Your horse will be taken out for you - all tack will be cleaned and disinfected before you ride - with a mounting block ready for mounting up.
Complete the Client Registration Form
Click here to open the form (this will open in a new page).
Please note that a form needs to be filled in for every rider, so if (for example) two children in one family ride here then each will need a form. When you have completed the form you should receive an e-mail acknowledgement (if you don't, the most likely reason is that you're email address has been entered incorrectly).

We know that these current restrictions mean quite a big change here but think you'll understand that everyone's safety (our staff and clients) is our priority at all times. Stay Safe!
CoVid-19 Risk Assessment (download pdf)

N.B. Because each riding centre is different other riding centres may offer different procedures, but we are adhering closely to the 'best practice' guidance rules provided by the British Horse Society and the British Equestrian Federation, with advice from our local authority Licencing Department.