Thank you for your interest in Croxteth Park Riding Centre. We've used this page to explain how our lessons will be taking place during the CoVid-19 pandemic. We've put together plans based on keeping you and our staff safe during this difficult time.
We are now taking taking bookings for group and private lessons and looking to re-establish regular lessons as we come out of lockdown, keeping up to date with the ongoing changes to the regulations - new information in red.
(Updated 3rd July 2020)
Registration Procedure
Read through the information below
If you haven't already done so, complete our new Client Registration Form (this will open in a new window). This is an online version of our old paper form but everyone will need to complete the new version before you can book and ride here again. Then return to this page. Read the Terms and Conditions section and complete the confirmation, at the bottom of the Client Registration form. You only need to complete the online form once, unless your details change (eg phone number).
Booking lessons is still by telephone (0151 220 9177),

give us a call

and we'll help sort out where we can fit you in and answer your questions. The number of classes and times of lessons will still be limited, to ensure that we comply with CoVid-19 restrictions and safety precautions.
Before your lesson
All our lessons will be taught, as best as possible, while maintaining 'social distance' and minimising the opportunity for transmission through surface contact.
In order that we can keep to the to the 2 metre social distance restriction in the beginning our lessons will only be for our regular advanced riders who can adjust their own stirrups and girths and mount up from the block unaided. Give us a call if you are unsure as to whether you can manage this - and we can help with letting you know what to expect (in most cases our clients will be able to manage this).

Trail Rides and Hacks in the park are not available at present, as it's not possible for us to ensure other park visitors will keep 2m distance.

We cannot currently loan out equipment, so you must also have your own hat (to correct standard), suitable clean boots, whip and clean gloves. You can download a sheet here (this will open in a new page) showing the Safety Standards that your hat needs to be to ride at Croxteth, or any other BHS Approved Centre. The standards are a bit complicated, with several different international schemes. N.B. Not all hats that are sold in the UK comply with these standards and we recommend that, as well as ensuring your hat meets the required standards, you have it professionally fitted (this may not be possible at the moment but there are some models with an adjustable headband available)
Anyone that is showing symptoms of CoVid-19 should not come for lessons, or if anyone in their household is showing symptoms, or is self isolating.
When arriving at Croxteth Hall and Country Park for your lesson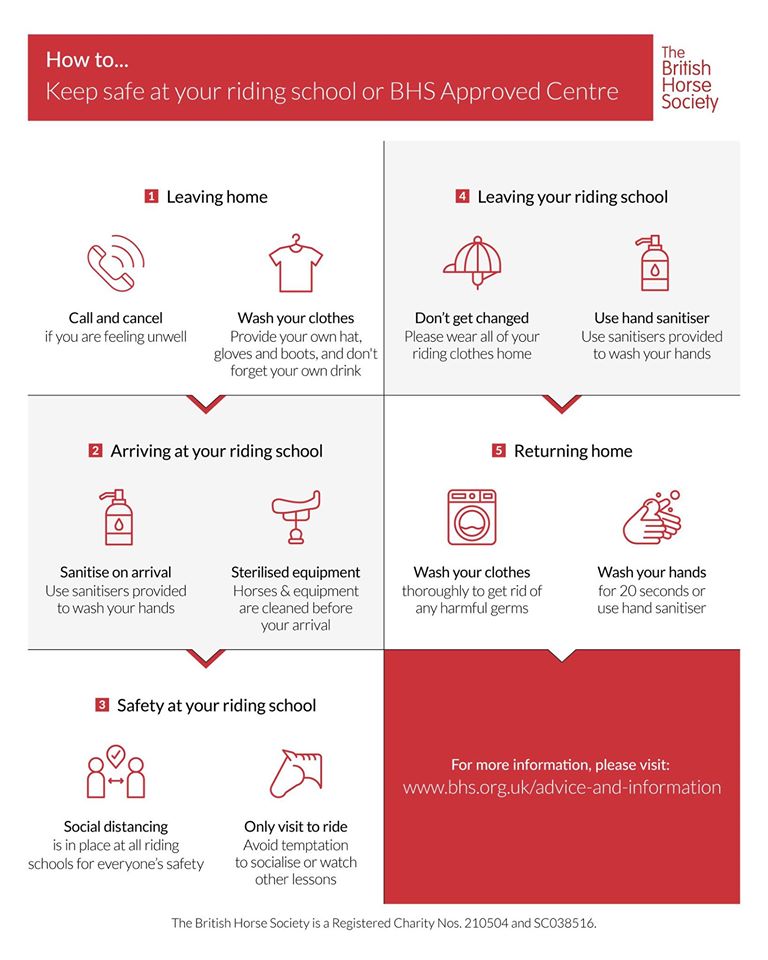 If arriving by car you may find that the road at the end of the access road (Flint Drive) off Croxteth Hall Lane is blocked by traffic cones (just around the corner from the T-junction). These are there to limit the movement of other traffic - it's ok to move them to pass through - please replace behind you.

The Riding Centre gate should be closed - please open and close it again after entry.

We'll be looking out for you so please stay behind the yard gate - we'll come to collect you. Please be ready to ride, wearing clean gloves, suitable boots, your own hat, correctly fitted and fastened and with your own whip if needed. We cannot loan out equipment at present.
Please comply with any direction signs (eg one way system, etc) at the centre.

Sorry, there will be no access into any of the stables, or other buildings, except a toilet (with sink for handwashing, etc) for Clients.

Your horse will be taken out for you - all tack will be cleaned and disinfected before you ride - with a mounting block ready for mounting up.
Complete the Client Registration Form
Click here to open the form (this will open in a new page).
Please note that a form needs to be filled in for every rider, so if (for example) two children in one family ride here then each will need a form.

We know that these current restrictions mean quite a big change here but think you'll understand that everyone's safety (our staff and clients) is our priority at all times. Stay Safe!
CoVid-19 Risk Assessment (download pdf)

N.B. Because each riding centre is different other riding centres may offer different procedures, but we are adhering closely to the 'best practice' guidance rules provided by the British Horse Society and the British Equestrian Federation.